Biography
Glen Matlock (born 27 August 1956) is an English musician, and the original bass guitarist of the punk rock band the Sex Pistols; having been introduced to guitarist Steve Jones, and drummer Paul Cook while working in Let It Rock - the precursor to SEX, Malcolm McLaren and Vivienne Westwood's clothing boutique in London. He is credited as a songwriter on 10 of the 12 songs on the Sex Pistols' only album, Never Mind The Bollocks.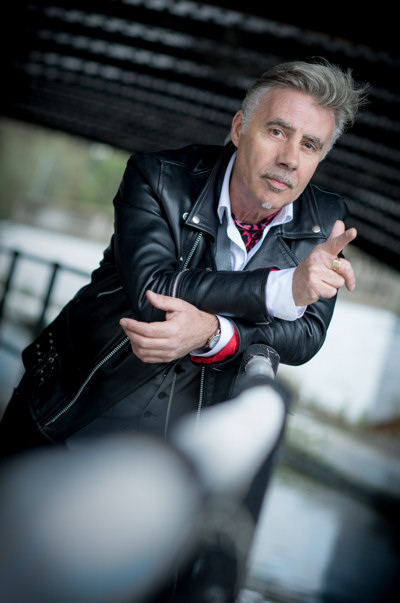 Matlock left the band in late February 1977, with contemporary reports (given to news outlets by manager Malcolm McLaren) stating that he was "thrown out" because he liked the Beatles. The claim was fictional, with Steve Huey of AllMusic claiming that Matlock. In his self-penned book I Was a Teenage Sex Pistol, Matlock stated that he left the band of his own volition as he was "was even more enamoured of The Faces and the mod groups prominently featured on London pirate radio in the late '60s, as were Steve Jones and Paul Cook.""sick of all the bullshit." In the 2000 documentary film The Filth and the Fury, the band members generally agree that there was tension between Matlock and vocalist Johnny Rotten, which Matlock suggests was further aggravated by Malcolm McLaren in an attempt to generate chaos within the band as a creative mechanism. In the 2002 Classic Albums documentary about Never Mind the Bollocks, Jones stated that in retrospect, pushing Matlock out of the band was a mistake, and that the group would have recorded more albums if Matlock had stayed in the band.
After leaving the Sex Pistols, Matlock went on to form the Rich Kids, with himself as bass guitarist and singer, Midge Ure (guitarist, singer and keyboard player), Steve New (guitarist and singer) and Rusty Egan (drummer). They released three singles and one album entitled Ghosts Of Princes in Towers. Also during this time, Matlock and New would play with Sid Vicious along with Rat Scabies in the one-off band The Vicious White Kids as part of a benefit performance in London, to help pay for Sid's travel expenses back to America. After The Rich Kids, Matlock would go on to form the short-lived Spectres, and then Hot Club. Prior to this Matlock toured Europe and North America with Iggy Pop and played bass and co wrote material for his album Soldier.
In 1996, Matlock recorded and released his first solo album Who's He Think He Is When He's at Home? on Creation Records. However, the album's release was overshadowed by Matlock rejoining the original Sex Pistols members for the first of their many reunion tours (1996, 2002, 2003, 2007 and 2008).
Beginning in the early '00s, Matlock would then assemble many short-lived groups including The Philistines, Dead Men Walking (feat. Mike Peters of The Alarm, Kirk Brandon of Theatre of Hate, and Pete Wylie of Wah!), and Slinky Vagabond (feat. Earl Slick, and Clem Burke). In November 2006, the Sex Pistols were inducted to the Rock and Roll Hall of Fame.
In January 2010, Glen Matlock reformed The Rich Kids for a one-off benefit concert in aid of ailing Steve New. He was joined on stage by original members Rusty Eagan, and Midge Ure, as well as Mick Jones of The Clash, and Gary Kemp from Spandau Ballet. New would later die of cancer on 24 May 2010. That same year, Matlock was asked to join a reformed Faces, and then in April 2011, he stood in on bass for Primal Scream at the Japan Tsunami appeal concert at Brixton Academy in London.
In late 2011, The International Swingers, a band comprising Matlock, Clem Burke, James Stevenson and Gary Twinn, was formed. The band, based in Los Angeles, toured Australia and the USA, and released a self-titled album in 2015. In 2012, Matlock made his acting debut in British drama film The Paddy Lincoln Gang, performing a scene at a live Faces concert. In 2017, Matlock joined a touring punk supergroup L.A.M.F. featuring Heartbreakers member Walter Lure, Clem Burke of Blondie, and Social Distortion's Mike Ness to pay tribute to the 40th Anniversary of Johnny Thunders & the Heartbreakers' classic LP, 1977's L.A.M.F.
In 2018, Matlock released the critically acclaimed solo album Good To Go. A more stripped back, and almost rockabilly-styled album featuring legendary guitarist Earl Slick (David Bowie / John Lennon) and drummer Slim Jim Phantom (Stray Cats). The track "Keep On Pushing," from the album was deemed "Best Song In The Universe Ever" on Little Steven's Underground Garage radio show (Sirius XM).
In April of 2022, Matlock was asked to join legendary New York band Blondie for their UK and US tours. Matlock remains a touring member of the group and is currently slated to appear on their forthcoming 2023 new studio album.
In the summer of 2022, FX / Disney+ released the Danny Boyle directed Sex Pistols' drama series Pistol (based on the Steve Jones autobiography 'Lonely Boy'). Matlock was portrayed by actor Christian Lees in the series.
In late 2022, Matlock signed a new worldwide solo record deal with Cooking Vinyl, which will see the label release Glen's long-awaited, timely and politically pertinent new solo album Consequences Coming on April 27, 2023. A first single and video from the record "Head On A Stick" are slated to be released on January 27, 2023.
"The album was written and recorded in Britain over the last 18 months or so with a posse of seasoned but on point performers." says Matlock. "All done during the debacle that is Brexit and the rise and fall of the turgid Trump episode in the US. These songs reflect my take on the whole sorry mess that has ensued." Matlock elaborates on the album, "Now the wheels of the music business can sometimes move at a lugubrious, glacial pace, and sometimes the moment might be lost but seeing no break in the clouds or clear light at the end of the tunnel, surely the only demand on people's lips should be that there are 'Consequences Coming' for the fat headed oafs who have foisted their asinine warped sensibilities on us."
"The tunes are pretty catchy too..."
SOLO DISCOGRAPHY
1996 Who's He Think He Is When He's at Home?
2000 Open Mind
2004 On Something
2010 Born Running
2013 Rattle Your Cage: The Best of Glen Matlock & The Philistines
2018 Good To Go
2023 Consequences Coming